Our Mission:
South Cypress offers hand-picked products that are readily available and reasonably priced.  These products enhance the project's design, function well for the life of the installation, and keep the project on-schedule and on-budget. 
Who we serve
South Cypress is built to serve the commercial architecture and design community.  Our products are especially suited for commercial projects, and we understand the unique logistical challenges that installers face.
Our Products
Many of our materials are made in the USA and most of them have domestic inventory.
Why our clients choose us
South Cypress helps designers find the right material for jobs, but our job doesn't stop there. When it's time for installation, our logistics team works every step of the way with your installer.
"South Cypress has been a convenient, comprehensive flooring solution for my designers and clients. The products are fresh and modern and at all price points. The staff is easy to work with and very knowledgeable about their products. It is so nice to have a local showroom for my flooring needs."

Jessica N
It is refreshing to be able to do business with a company like South Cypress who truly puts their focus on customer service. I always know I will get a fair price on any of their products which gives me confidence to offer it to my clients.

Margaret M.
"South Cypress has brought unparalleled value to our projects through their fully integrated team. Our design teams appreciate their technical support during product selection, their supply chain management has supported our contractors during the procurement process, and their pricing has provided us with tangible project savings."

Neal T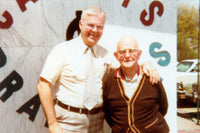 Family Owned
South Cypress is a third generation family owned and operated business. We were established in 1952 and one of the first to sell flooring product online.
Read our story